While you may have better things to do in your free time than reading through the Thrift Savings Plan documents, it's important to understand this essential part of your overall employee benefits. In a recent survey, more than 80% of employers said that retirement and savings are important benefits, ranking second only to healthcare benefits. It's safe to say that if you're concerned about your retirement, you're not alone. 
But all retirement plans are not created equal, and it can be confusing for many employees trying to sift through all the information. For federal employees, the Thrift Savings Plan (TSP) is similar to a 401(k) but has some unique benefits you may need help understanding. This guide is a great place to start when learning everything you need to know about the TSP.
The Basics: How a Thrift Savings Plan Works
Just like a 401(k), the TSP offers participants the opportunity to divert some of their income into a defined contribution program. For federal employees, the government contributes money an employee designates into a retirement account on their behalf. 
There are both traditional TSP and Roth TSP accounts available. Having a traditional TSP means that your contributions, employer match, and investment growth are all pre-tax. When you make a withdrawal down the road, the taxes will be due based on the applicable tax rate at the time you take the money out.
Roth TSP accounts are post-tax, so all contributions are taxed as income at the time the contributions are made. The benefit, however, is that no tax will be due at the time you withdraw on either your contributions or your growth. It should be noted that all employer matches can only be made in a traditional account. This will result in having both a Roth and a traditional account open if you choose to make contributions into a Roth.
How Do Contributions Work?
The contribution limit for the TSP is $22,500 in 2023, with a $7,500 catch-up contribution available for employees over age 50. RMDs start at age 72 for both account types, though the TSP allows you to sidestep this if you haven't yet retired from your federal employment.
Like many employers, the plan offers a match, up to 5% when an employee also contributes 5% (a full match on the first 3%, and a 50% match on the last 2%). This is in combination with the automatic 1% contribution your agency makes on your behalf each pay period. For this reason, make sure you change your automatic deduction to 5% to take full advantage of this benefit.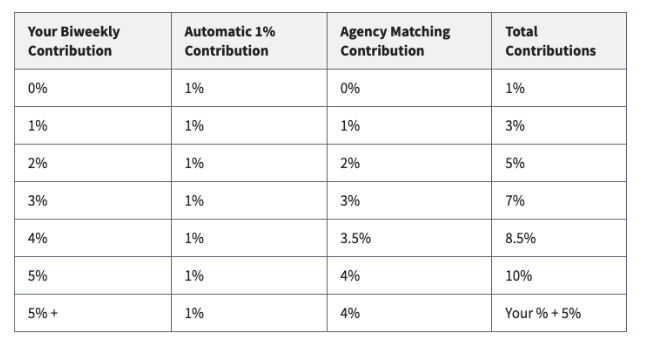 You become vested in the automatic contribution after either two or three years, depending on which department of the government you work for.
What About My Plan Options?
One stark contrast we see between 401(k) accounts and the TSP is the wide variety of investment options available to most 401(k) plans, versus the choices available to the TSP. The TSP offers significantly fewer investment options than the average 401(k) plan. While stable and typically very conservative, the lack of options may leave some employees feeling like they have a lack of control over their portfolios.
More recently, the TSP has started offering mutual funds as a way to expand the available investment options. However, there are additional costs that may make mutual funds less attractive to the average TSP investor. For instance, you'll need to:
Maintain a $40,000 minimum balance
Make a minimum initial investment of $10,000
Pay a $55 annual administrative fee
Pay a $95 annual maintenance fee
Pay a $28.75 per-trade fee
Pay other fees and expenses specific to the mutual funds you choose
As with every investment, there are trade-offs no matter what you choose. Sticking with the traditional TSP investment options (index funds and lifecycle funds) can offer a much lower cost alternative to the TSP mutual funds and other investments offered through 401(k)s. In fact, 401(k)s can often have high and sometimes hidden maintenance and administrative fees. With relatively low fees, a TSP participant often enjoys the opportunity to keep more of their contributions growing for their retirement.
Beyond the Basics of a TSP
While we have covered the basics of the TSP, there are many facets to this retirement savings plan. It's important to work with a trusted professional who is knowledgeable in this area and can help you navigate all your options so you can make the most of your employee benefits.
At Sentinel Financial Planning, we help take the confusion out of financial planning. We can work with you to set up your TSP in a way that best meets the needs of you and your family. To set up an appointment, call us at (443) 906-1565 or email mark@sentinelfp.com. You can also send us a message online. We look forward to hearing from you!
About Mark
Mark Humphries is the owner and financial advisor at Sentinel Financial Planning, a boutique, veteran-owned and operated investment management, and financial planning firm. Mark focuses on helping federal government employees, military members, and business owners manage their investments and plan for retirement. As a former military service member and federal employee with over 10 years in the financial industry, he is familiar with the Federal Employee Retirement System (FERS) and the Thrift Savings Plan (TSP) and is uniquely qualified to serve his clientele.
Before working in the financial industry, Mark was enlisted in the U.S. Marine Corps from 1999 to 2003, during which he became familiar with the challenges military service members and their families face, especially during deployments. After seven years of working in the financial industry, Mark launched Sentinel Financial Planning to provide a better way for small business owners and federal employees to find reliable financial planning solutions. In addition to the CERTIFIED FINANCIAL PLANNER™ designation, Mark holds a bachelor's degree in business administration from the University of Central Florida and a master's degree in personal financial planning from Kansas State University.
Outside the office, Mark enjoys boating, fishing, hunting, and collegiate sports. Additionally, he is a member of the National Association of Professional Financial Advisors, XY Planning Network, Anne Arundel County Pension Oversight Commission, Naval Academy Primary School Board of Trustees, and Warrior Events Board of Directors. To learn more about Mark, connect with him on LinkedIn.